From the pen of the author and artist --
"Art is Life . .. or if it isn't, thinking about it makes life sweeter."

As well as being an enthusiastic traveler and conservationist, Pat has climbed all 116 mountains in New England over 4000' and is responsible for the completion of a 10.7 mile pedestrian trail in Newtown, Connecticut named Al's Trail .

Patricia was born in Canada and to her core she is an artist, environmentalist and organic gardener. Before her retirement, Dr. Barkman taught at Western Connecticut State University, Housatonic Community College and Crease University. Up until his death September 22, 2012, Leon, her husband, was a companion hiker and supporter of her free spirit and accomplishments.

Each of Pat's paintings is of a special place. She also invites you to visit her cottage gallery on the shores of Taunton Lake in Newtown CT. Pat holds an annual public Garden Art Show on the first weekend in June.
To view her Lakeside Gallery by appointment, phone 203-426-8949.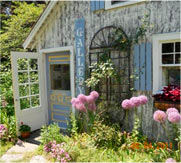 Lakeside Studio with the
garden in full bloom.